TERMS OF SERVICE
I ACCEPT PAYMENT IN USD THROUGH PAYPAL ONLY.
PLEASE NOTIFY ME ONCE PAYMENT IS SENT.
---
I WILL DRAW
real people (with references/descriptions)
humanoid characters (aliens, furries, monsters)
gore
animalsI WILL NOT DRAW
sexualised or nude minors
offensive material
works for NFT use
Feel free to inquire about anything unlisted!
---
GENERAL TERMS
ETA ranges from one day to one week.
By commissioning me, you are agreeing to my terms of service, which are subject to change at any time without warning.
I do not begin until I receive the payment in full.
Specific details are required before payment is sent for me to properly determine the price. I will charge extra to change large details if they are not specified before I begin.
Private commissions, base .psd files, and speedpaints are available with an extra fee ranging from $10 to $25 per.
Edits are permitted with the client's approval.
---
PAYMENT
The payment must be sent as services/goods through PayPal.
Base prices may rise if the given design/details are extensive.
I do not accept any other forms of payment.
---
CHANGES AND REFUNDS
Changes to a standard sketch are free of charge unless they become excessive.
I will give a full refund only if no work has been completed.
Changes requested after the piece has been finished and approved will be charged another fee.
---
USAGE
I retain the copyright to each image I create unless our contract specifies otherwise.
Please contact me for any inquiries.
TWITTER
TOYHOU.SE
REDDIT
STANDARD COMMISSIONS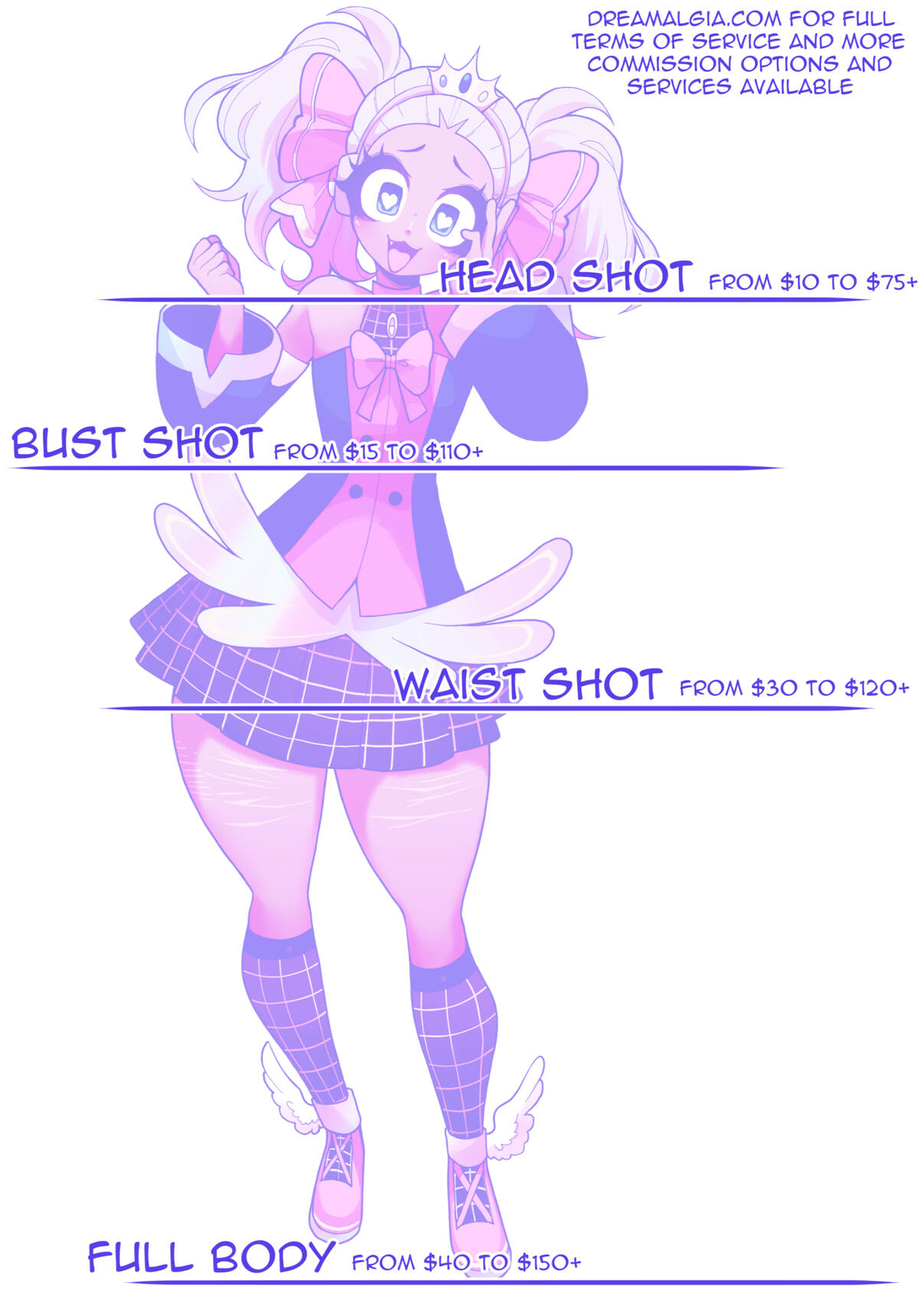 HEADSHOT
| TYPE | SKETCH | LINES | FLATS | SHADED |
| --- | --- | --- | --- | --- |
| STANDARD PRICE | $20 | $50 | $60 | $75 |
| EXTRA CHARACTERS | +$15 | +$30 | +$40 | +$60 |
| ADDED BACKGROUND | +$15 | +$40 | +$55 | +$70 |
| ADDED FLATS | +$10 | | | |
BUST SHOT
| TYPE | SKETCH | LINES | FLATS | SHADED |
| --- | --- | --- | --- | --- |
| STANDARD PRICE | $30 | $75 | $90 | $110 |
| EXTRA CHARACTERS | +$20 | +$50 | +$65 | +$75 |
| ADDED BACKGROUND | +$25 | +$55 | +$65 | +$80 |
| ADDED FLATS | +$15 | | | |
WAIST SHOT
| TYPE | SKETCH | LINES | FLATS | SHADED |
| --- | --- | --- | --- | --- |
| STANDARD PRICE | $40 | $85 | $100 | $120 |
| EXTRA CHARACTERS | +$30 | +$60 | +$75 | +$90 |
| ADDED BACKGROUND | +$30 | +$70 | +$80 | +$100 |
| ADDED FLATS | +$25 | | | |
FULL BODY
| TYPE | SKETCH | LINES | FLATS | SHADED |
| --- | --- | --- | --- | --- |
| STANDARD PRICE | $50 | $100 | $125 | $150 |
| EXTRA CHARACTERS | +$40 | +$80 | +$100 | +$125 |
| ADDED BACKGROUND | +$50 | +$60 | +$70 | +$130 |
| ADDED FLATS | +$35 | | | |
SPECIALS
PIXEL $50
+$35 PER EXTRA CHARACTER
SIMPLE FULL BODY $65
+$50 PER EXTRA CHARACTER
+$15 BLINKING ANIMATION FEE
PONY $25
LOWPOLY MODEL $100+
RIGGED WITH MIXAMO
SIMPLE DESIGNS ONLY
CHIBI OPTIONS
CHIBI ICON $30
SKETCHY CHIBI $45
+$30 PER EXTRA CHARACTER
STANDARD CHIBI $75
+$50 PER EXTRA CHARACTER